The RP1 is suitable for installation on all types of doors.
Note: Seal must be fitted to the inside face of the door.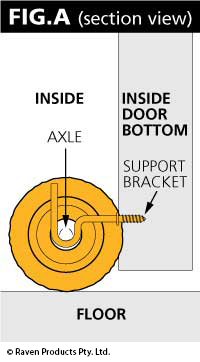 Place seal on the floor against door bottom, with soft end towards the hinge side of door.
With scissors, cut seal to the width of the door (FIG.B).

Leaving the seal in the same position, mark door between 1st and 3rd roller spacings for the positions of the support brackets. Rest pencil horizontally on axle when marking.
Remove the seal from position.

Screw support brackets in position as marked. If attaching to hardwood doors, drill 12mm deep pilot holes with a 3mm drill bit.
Place seal axle (FIG.A) on support brackets, with soft end towards hinge side of the door.